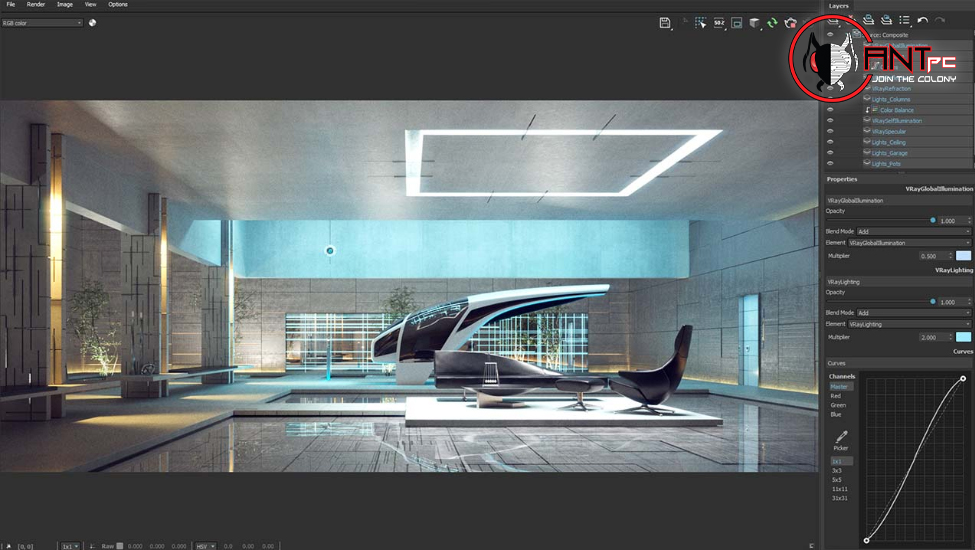 Best 3D Workstation PCs Fully Compatible With V-RAY
Irrespective of whether you're a professional Architect, Engineer, Designer, and Artist for a long time or have an interest in 3D Modeling & Designing, you're most probably familiar with the term "RENDERING". It's the process of Creating Photo-Realistic Images either in 2D or 3D from Architectural Design or Model. The Better The Pictures, The More Likely People Will Depict Your Ideas!
At present, you have a multitude of options for the Best Rendering Software including Unity, Blender, 3DS Max Design, Maya, KeyShot, D5 Render, Cinema 4D, Autodesk 3ds Max, and more, offering significant features such as texturing, lighting, and wind effects to bring scenes to life. Among all, V-RAY is the rendering software of choice for most Graphics Designers, Architects, and Engineers in recent years.
This 3D Rendering Plugin is widely used in Advertising, Architectural Visualization, and Visual Effects for Film & Television. Using it, artists and designers can explore & share their projects with 'REAL-TIME RAY TRACING' and 'RENDER HIGH-QUALITY VISUALIZATIONS'.
Why Choose V-Ray?
Incomparable Speed, Scalability, and Versatility - ALL In ONE PLACE
While using V-RAY, you've no limits
It's easy to learn and use V-RAY
You can readily validate your ideas in real-time
With technical support & continuous development - V-Ray has got your back
Excellent value for your money
How Do Artists or Designers Use V-RAY?
Television & Film VFX
Architectural & Interior Design
Advertising
Automotive Rendering
Product Design
Game Production
IF YOU ARE SEARCHING FOR A PHOTOREALISTIC VIEW, LOOK NO FURTHER!
Just bring home a powerful 3D Workstation PC fulfilling all essential Hardware Recommendations for V-RAY. Below are some great choices along with a broad range of prices and you can purchase the one that would complement your specific needs.
Let's dive deep into them!
Processor: Intel Core i5 11400 (6 Core, 12 Threads, Up to 4.4 GHz)
RAM: 8GB DDR4 3200 MHz
Graphics Card: Nvidia GeForce GTX 1650 4GB
SSD: 256GB Ant Esports NVMe m.2 SSD
HDD: 1 TB WD Blue SATA HDD 7200 RPM
Processor: AMD Ryzen 7 7700X (8 Core, 16 Threads, Up to 5.4 GHz)
RAM: 16GB RGB DDR5 6000 MHz
Graphics Card: Nvidia GeForce RTX 3060 12GB
SSD: 2512 GB NVMe m.2 SSD
HDD: 1 TB WD Blue SATA HDD 7200 RPM
Processor: Intel Core i9 10920x (12 Core, 24 Threads, Up to 4.6 GHz)
RAM: 16GB DDR4 3600 MHz
Graphics Card: Nvidia RTX A4000 16GB
SSD: 500 GB Samsung 980 NVMe m.2 SSD
HDD: 1 TB WD Blue SATA HDD 7200 RPM
Hoping that you found this Web Blog helpful as it contains the best workstation configuration for Rendering which can easily support various software providing more creative flexibility than ever before. This includes V-RAY, Maya, Blender, Unity, 3ds Max Design, KeyShot and the list goes on.
At Ant PC, we offer highly customized Workstations, PCs, and servers that are thoroughly tested before getting delivered to ensure you'll get the most desirable results. So, whether you want to place an order or ask for your recommendations, feel free to get in touch with us by dropping an email at sales@ant-pc.com or making a phone call on this number: +91-888 012 6872
So, are you curious to buy your best-ever 3D Workstation PC? Here, you will get excellent assistance as never before!!