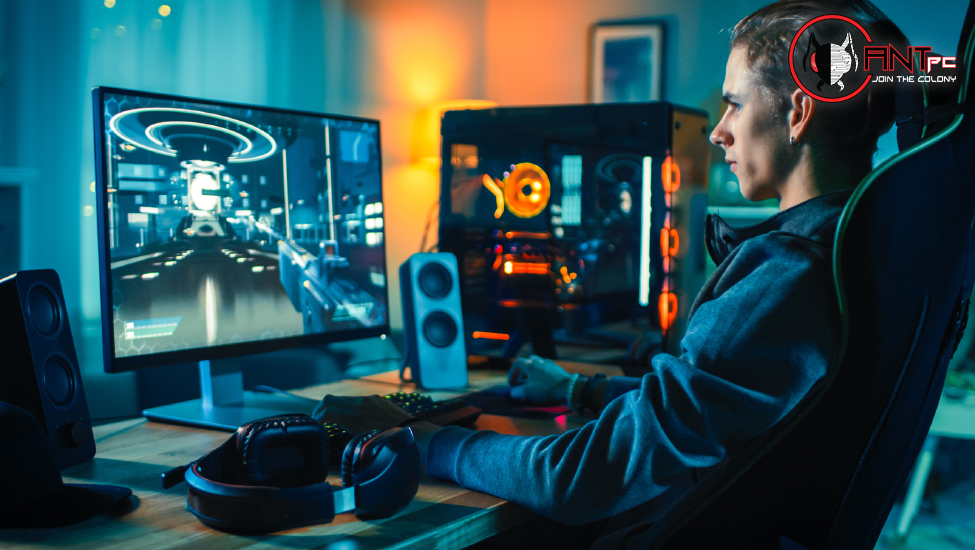 Everything You Need to Know Before Investing In A High End Gaming PC
Enthusiasts recognize that nothing beats the first-class of gameplay you could get with a computing device constructed for gaming. The Solenopsis series of ANT PC provide a pre-high-end gaming PC for hardcore gamers. Solenopsis series is best for high-end gaming pc & it could make foremost 3-D video games appearance and run higher than they do at the Sony PS5 or the Microsoft Xbox Series X?
ANT PC Solenopsis series pre-built high-end gaming pc is dedicated to 4k and VR gaming experience. With these pre-built high-end gaming pc, you can also do a lot more than just gaming, like Content Creation. So, you may say that a terrific gaming PC is a jack of all trades.
What is the High-end gaming pc specs in the solenopsis series?
A gaming PC can both be a custom gaming PC, or a pre-built PC. Depending on the kind of user, each of those alternatives is viable. To get a high-end gaming pc, Knowledge about components a must. A pre-built High end gaming pc is appropriate for people who don't have technical expertise in this segment.
When we talk about High-end gaming pc, CPUs & GPU play a vital role in performance. Solenopsis Series of ANT PC are designed for extreme gaming performance. The pre-determined config is best suited for extreme gaming performance & day to day tasks as well. A combination of CPUs like AMD Ryzen 7 or 9 & Intel i7 or i9 with GPU 3080 & 3090 is one of the deadly combinations for any High-end gaming pc for hardcore gaming performance & that's what you will get in the pre-determined ANT PC Solenopsis series.
What are the things you can do with solenopsis series pcs?
ANT PC Solenopsis series PC is specially designed for extreme gaming. Apart from high-end gaming there is lots of things you can do with Solenopsis series pcs. With Solenopsis series pc you can do content creation like video editing, Graphic designing, Streaming & lots of day-to-day tasks as well.
Best gaming pc you can buy today.
If you are curious as to how much your new gaming computer will cost, then the ANT PC is there for you. ANT PC prices are best in the competitive market. ANT PC offers you four Pre determined PC in Solenopsis series, which is the best gaming PC you can buy at the best market price. Ant PC never lets you compromise with the performance. One-stop solution for all your PC-related requirements.
If you're looking at something rather special. Then buy any pc from the Solenopsis series today & get the experience of high-end gaming. Video editing & Streaming is also a piece of cake with the Solenopsis series pre-determined PC.
There are 4 types of PCs in the Solenopsis series
1. Ant pc Solenopsis CL700K - Solenopsis CL700k comes with an i7 10Gen processor and RTX 3090 graphic Card. For more power & Stability, we use MSI MAG Z590 TOMAHAWK WIFI Motherboard with 16 GB DDR4 RAM 3200MHz. Which gives you seem less & Lagging free, Gaming experience.
2. Ant pc Solenopsis RZ800X - Solenopsis RZ800X comes with AMD Ryzen 7 5800X (8Core, 16 Threads, up to 4.7 GHz) processor and RTX 3080 graphic Card. And for best gaming performance, we use MSI MAG X570S Torpedo MAX Motherboard & 16 GM DDR4 3000MHz. For CPU Cooler, you will get NZXT Kraken X73 360MM Liquid Cooler which protects your CPU from heating.
3. Ant Pc Solenopsis RZ900X - Solenopsis RZ900X comes with AMD Ryzen 9 5950X (16Core, 32 Threads, up to 4.9 GHz) processor and MSI Radeon RX 6700 XT MECH 2X 12G. To give a powerful base, we use MSI MAG X570S Tomahawk MAX Wi-Fi & CPU Cooler Lian Li Galahad 360 Black along with 32GB DDR4 3200MHz RAM.
4. Ant Pc Solenopsis RL900k - Solenopsis RL900k comes with an Intel Core i9 processor and RTX 3080 Graphic card. We never let you compromise with the power & performance, so we use MSI MAG Z590 TOMAHAWK WIFI Motherboard & 32GB DDR4 3000MHz RAM.
FAQ
1. How much does it cost to build a high-end gaming PC 2022?
We are presently putting ANT PC on the top due to the fact you may discover a configuration for pretty much any budget at the same time as still being inspired through its normal performance. Ant PC offers Pre determined & Custom build PC both Customers can choose config as per their requirement & budget. High-end gaming PC costs will start from approx. 2 Lacs. Rest all depends on user requirements.
2. Is a high-end gaming PC worth it?
Yes, a high-end gaming PC is worth it because it's a decent combination of CPU, GPU, Motherboard, CPU COOLER & RAM. With this combination, apart from gaming, you can also accomplish your day-to-day task. So multi-uses is also possible, which makes it worth.
3. Do high-end gaming computers make good workstations?
Yes, as we know high- end gaming PC is a great combination of CPU, GPU, Motherboard, CPU COOLER, PSU, STORAGE & RAM. So, this is also working as a workstation in some of the activities in content creation like Video Editing, Graphic Designing, etc.
4. Why are High-End gaming PCs so expensive?
CPU & GPU both play the most important role in PC Performance. Due to Semi-Conductor Chip shortage prices of PC components is high. This is also one of the main reason High-End gaming PCs is quite expensive.
5. What is the cheapest PC for gaming?
For budget gamers, ANT PC already have a dedicated Dorylus series which have the cheapest PC in this segment for gaming.
ANT PC offers DORYLUS CL400, the cheapest pc for budget gamers. Pre-Determined PC price starts from 43000 approx.
For More Details Visit: https://www.ant-pc.com/gaming-pc/dorylus